About

Think reverb-soaked guitar twang. Think pounding drum beats. Think cheesy organ sounds. Think thumping bass vibes. Shake all of that together — do not stir. Serve cool. That's The Akulas.
Rooted in Ghent (Belgium) since 2005, inspired by the sixties' sounds of surf music, Hammond craze and European beat!
The Akulas are Udo (Gretsch drums), Willem (Framus Star bass driven by a Fender Bassman 100), Benjamin (Nord organ) and Ruben (Fender Jaguar & Jazzmaster driven by a Fender Dual Showman Reverb and a Fender Reverb Tank).
Picture Archive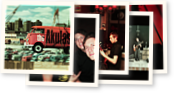 Gigs
Chatleroi

Thu, 14 Dec '23 — Graaf van Hoornestraat 2, Antwerpen

Missy Sippy Blues & Rootsclub, Gent

Thu, 30 Nov '23 — Gent, Klein Turkije 16, Gent

Kaffee 't Hof

Fri, 10 Nov '23 — Middelburg, Nederland

Private Birthday Bash Party!

Sun, 22 Oct '23 — Somewhere private

Party in Moscou!

Also playing: Hadacol Tremblers!
Fri, 1 Sep '23 — Wijkpark De Porre Moscou Gentbrugge

Paulusfeesten 2023

At 19:00 hours. A Stinstage event!
Thu, 10 Aug '23 — On the Pier & Pol stage in Oostende